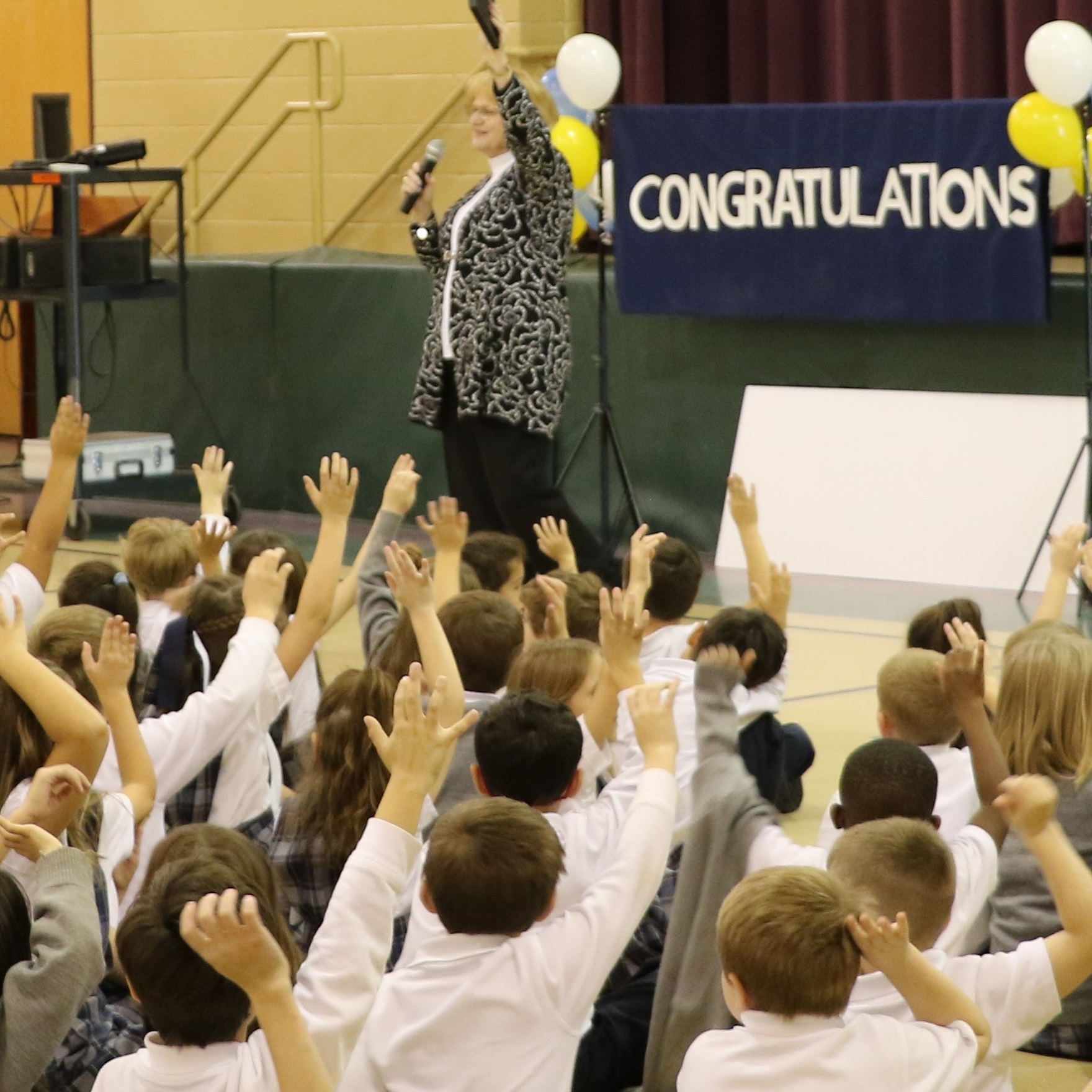 School Shout-Outs
We had so much to celebrate at SAGE. Catholic schools are owning their own futures.
In 2018, nine schools in six dioceses received School Advancement Grants for Excellence (SAGE). The SAGE awards ceremony and networking experience empower and strengthen the resolve of the community working to revitalize and rejuvenate pride in Catholic schools.
In the six years since the premier SAGE event, the Foundation has worked with partner schools to implement enrollment strategies that have impacted 62,000 children. In that same timespan, with the Foundation's help, partner schools have raised more than $20 million in mission-based revenue through their annual funds.
In addition to naming the SAGE winners, the Healey Education Foundation celebrated a range of other achievements:
Four partner schools in the Archdiocese of Philadelphia were named Blue Ribbon Schools this year: Mater Dei (Lansdale), Our Lady of Mercy (Maple Glen), St. Katherine Drexel (Holland) and Saints Peter and Paul (West Chester).
Blessed Trinity School (Richfield, MN) – The school had to be nimble when it hit an unexpected mid-year budget shortfall. Blessed Trinity gathered a group of influencers in their community to serve as captains in raising $100,000 in 100 days through 100 donors. The group compiled a donor list of 310 individuals.
Holy Family Regional School (Levittown, PA) closed its fiscal year at $212,961, which was 121% over goal. Gifts to the school's annual fund have grown by 38% from a pool of donors that increased by 26%.
Notre Dame Academy (Minnetonka, MN) created an exceptional Board. The school's Board committees spent the summer creating a strategic plan and measurable goals for the next three years – such as maintaining 96% enrollment retention by Catholic Schools Week.
Our Lady of Hope (Blackwood, NJ) relied on a wonderful Parent Ambassador program to support new families and quickly engage them as members of their community.
St. Anne School (Bethlehem, PA) – After winning the Founder's Award last year, the school has mastered "retention-oriented behavior," creating a place of belonging. St. Anne's filled a new, second Aquinas Learning Support Program classroom, growing its special education program by 45%!
Owning Their Future from Healey Education Foundation on Vimeo.
St. Dominic School (Northfield, MN) added a civics governance simulation by collaborating with Bellevue University on curriculum. This approach to innovative learning was part of the school's strategy to expand its middle school program.
St. John the Evangelist (Hydes, MD) made the most of its Blue Ribbon status to increase awareness within the community and double the school's number of new students.
St. John Vianney School (Allentown, PA) provided $400,000 in scholarships funding through annual fund donations, grants and the EITC and OSTC scholarships.
Saint Mary Magdalen (Wilmington, DE) – A team of parents, faculty and leadership raised more than $490,000 in just nine months to install air conditioning in the school. This year, the school added 12 more seats in its early childhood program. Its PreK program is full, with a waitlist. (Enjoy the school spirit on full display in the Foundation's video Christmas card.)
St. Michael the Archangel (Bethlehem, PA) – Recognizing a need for better PreK to K retention, the school moved from a parish-operated PreK model to a school-operated PreK model. 100% of the school's PreK students moved on to Kindergarten, as compared to just 37% matriculating from the parish preschool in the past.
Saints Peter and Paul School (West Chester, PA) – The school's Board of Limited Jurisdiction and Mr. Colin Hueston (Board Chairman) won the NCEA 2018 "LEAD. LEARN. PROCLAIM." Award.

---
Photo Above: Celebrating at St. Philip Neri School (Linthicum Heights, MD). After partnering with the Healey Education Foundation in 2015, St. Philip Neri's enrollment has increased by 24%, and the school has seen its new Annual Fund rise to more than $75,000 in unrestricted dollars in just 3 years. For its impressive turnaround efforts, the school received the $15,000 Founder's Award for entrepreneurial spirit in action. St. Philip Neri also received Healey's highest honor in the development awards category – $5,000 for highest percentage growth (50%) in annual fund for a current partner school.